Are you considering adding your home to the listings of homes for sale in Neenah, WI? Interior design can bring new life to your residence, giving it a "signature look" that reflects a tendency towards entertaining, an organized hub for a busy family, or a romantic oasis for couples. These seven interior design principles give you the basis for choosing colors and furnishings that bring the "wow" factor to your family's home: balance, harmony, rhythm, scale and proportion, emphasis, contrast, and details. So let's break these principles down and determine the right looks for your Neenah real estate!
1. Balance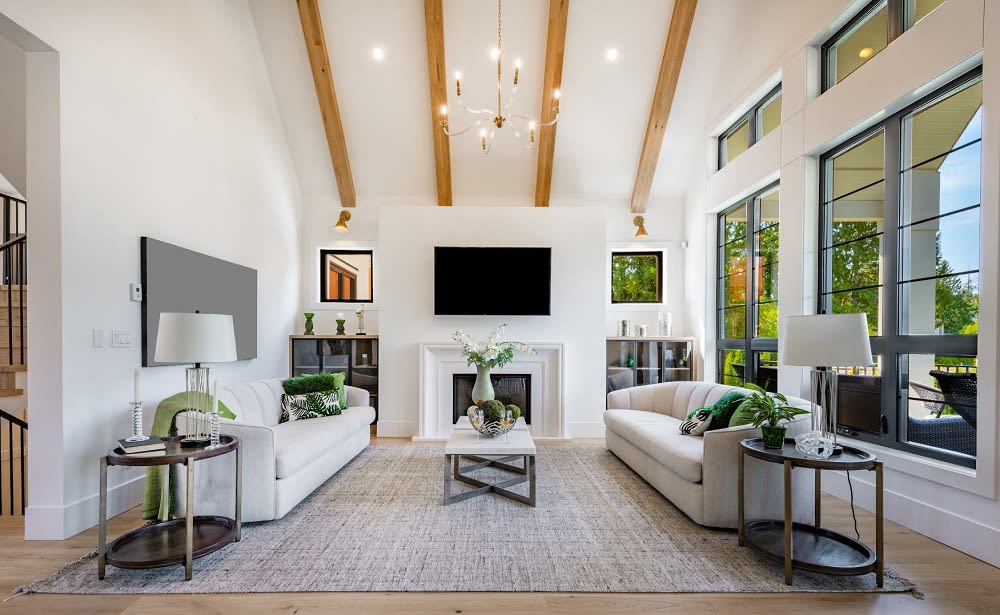 Buyers want to feel at home when they view houses. You want to create a sense of unity through balance. There are three primary forms of balance when considering the interior of your home and the feeling you wish to portray. Whether it's peace and tranquility or subtle confidence, the colors, lighting, and furniture you choose will either help or hinder your goals. The best rule is to go with a minimalist design, with not too much negative space (devoid of items) and not too much clutter.

Symmetrical or "formal balance" is the most common go-to interior design. Placing an end table on either side of a sofa with matching lamps, a signature coffee table between a living room suite, and a wing-backed chair on either side of a bedroom sitting area are all examples of "mirroring" or balancing one side of a room with the other. Symmetrical balance gives the room a more organized feel and can be calming as its nature is reflected in the symmetry of our bodies.

A more modern approach is asymmetrical balance, which gives the homeowner more freedom of expression. Instead of mirroring each side of the room, you achieve balance with each half of the room being different but having equal visual weight. For example, you may place a floor lamp on one side of a sofa and an end table with a smaller light on the opposite side. Or you may display art with three symmetrical pictures on one wall and one larger painting on a slightly different theme on the opposite wall.

Radial balance involves a more circular feel, with items arranged around a central point extending inward or outward. Again, the primary object is the focus, and the radiating pieces draw the eye back to the focal point. This is a complex form of balance to achieve and is most easily rendered in a dining room or kitchen where a table and stunning lighting fixture or chandelier are the central points, with all other accents bringing attention to the main point focus.
2. Harmony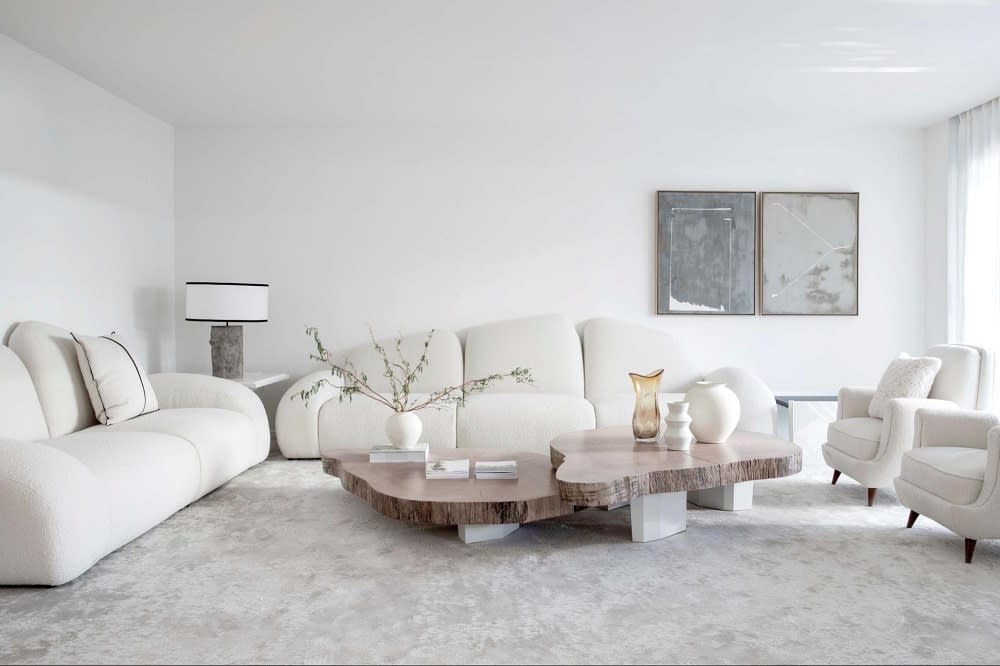 Those who are looking at homes for sale in Neenah, WI are often seeking harmony. Harmony refers to the sense of belonging, the unity that anchors the room's interior design, and the sense of cohesiveness in style, theme, and mood. In addition, it reflects the personality of the space. While decorative items don't have to be identical, they do have to complement one another. This is most easily achieved by following the same color scheme within a room and having different fibers, fabrics, and accents. When trying to achieve harmony, it is best to focus on a piece you love and let the creativity flow from there. For example, if you have a favorite patterned accent chair, use the colors from that chair to create the color palate for the room.
3. Rhythm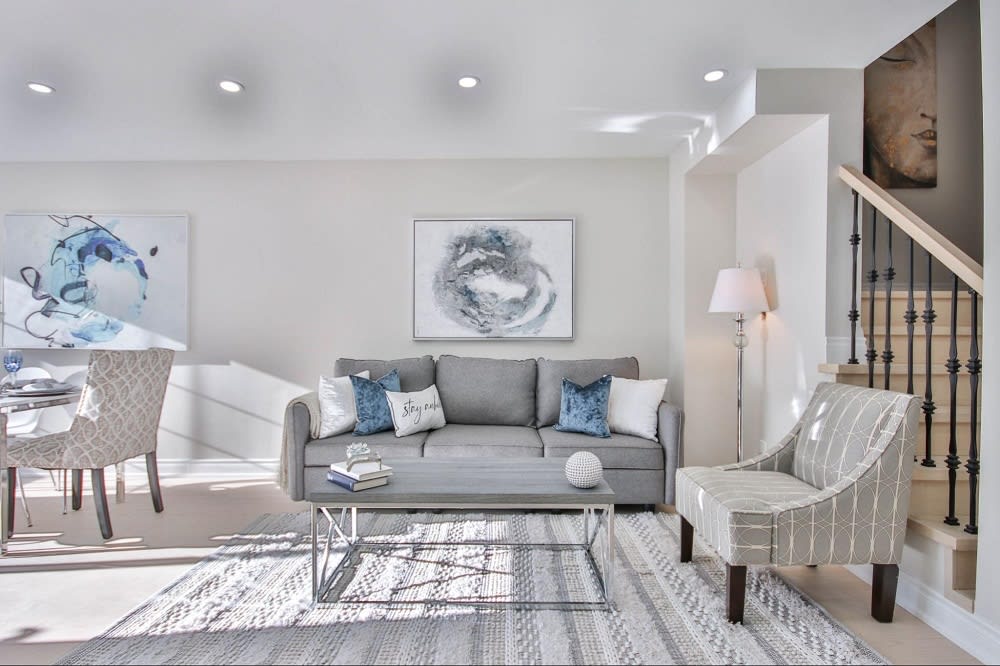 When placing your Neenah real estate up for sale, you will want the potential homebuyer's eye to dance from room to room. This is achieved through color, shape, size, texture, and pattern with repetition, transition, and progression. For example, you can use the same colors in a room at different levels to lure the eye around the room. In addition, you may want to paint an aqua-blue accent wall and have similarly colored pillows on the couch. Then further compliment the theme by hanging art with aqua-blue accents within the piece.
4. Scale and proportion

Buyers looking at homes for sale in Neenah, WI are looking for homes that flow and have a theme. Proportion and scale bring cohesiveness to balance and harmony. Scale references an object's size and how it compliments or contrasts the size of all other objects in the room. Proportion is more obscure and refers to the general relationship between objects of different sizes. To achieve scale and proportion, rely on your eyes. For example, the height of a desk should match the height of a window frame. Do not place a dainty side table next to a sizable overstuffed chair—balance taller plants with shorter plants in tall planters.
5. Emphasis

Emphasis means that every room has its focal point, whether it is an architectural portion of the home itself or a distinct object. Color, texture, and form add emphasis to the focal point. This can be achieved through a statement wall of wallpaper, a unique designer coffee table, a built-in window seat with a view, or a stunning chandelier in the entryway. Creating emphasis is one area a professional stager will work on when they help you prepare your home for listing.
6. Contrast

Contrast is simply that: contrasting pieces. This can be achieved through color, texture, style (i.e., Modern and Bohemian), shape, patterns, form, and use of space. You can balance areas of positive and negative space when arranging the contents of a room, but it is essential to consider the size of the room when implementing contrast. A small room can be overwhelmed with too much contrast, and a larger room can seem like an empty void with too little contrast. On the other hand, simple touches like a large round mirror over a long rectangular couch or two square end tables with a large oval coffee table in your living room can emphasize contrast.
7. Details
All good interior design comes down to the nitty-gritty details. Finishing touches provide the bow that ties the whole room together. Small details like light switches and door knobs allow you to add the final pieces of flair to a well-put-together room. Accent pillows, decorative switch plates, and unique trinkets can all bring the feel of a room together. So be creative and follow the flow of the room!
When placing your house on the Neenah real estate market, targeting interior design as part of your home preparation will go a long way toward creating enticing selling points for your listing. All of the interior design details enhance the room's perfection and create a polished and enticing space. Once you're ready to take the next step, reach out to trusted local agent
Kelly Davies
for assistance.