Appleton is one of the nicest towns in Wisconsin, and it is a great place to raise a family. The population comes in around 75,000, and you will be close to so many fun things to do that you will never get bored living in this city! The public schools here are excellent, and housing prices are really reasonable. Kelly Davies Homes Team has been helping people to find their dream Appleton residence for years. There is no better choice to make if you are looking to relocate to this lovely city and want to find the home of your dreams with ease!

If you're not yet completely sold on moving to this city based on the points we have already mentioned, there are lots of other reasons that you might want to relocate to Appleton. If you are ready to learn some more about why you might want to move your family to this city, you need to read on.
Why You Will Love Raising a Family in Appleton

Excellent schools
Appleton will offer your kids access to classrooms with a good teacher-to-student ratio, and there are enough schools in the district to keep class sizes manageable in every grade. The
high school graduation rate is 91.1%
here, and the test scores for the children attending schools in this city indicate that 46% of them are above proficiency levels.
This is a great place to move your kids if you are worried about their education and want to be sure that they will get the attention they deserve. This is also
a well-funded school system
that provides sports and other important extracurricular activities. Your child will get a great education and access to all the added activities that they need to grow up happy and healthy.

Eat & shop healthy
This is a great city for your family if you want to make sure that you are feeding everyone with the freshest produce and want access to locally sourced and crafted products. Many stores in Appleton are focused on health, organic products, and healthy living that you can care for your family with ease.
Farmer's Market in Appleton
is just one example of the many healthy living options that you cannot find in other parts of the state or even the US. You will be able to buy all of your produce here fresh from the farm, and you can also get locally sourced home goods and other products to provide healthy options for all aspects of your daily life.

Museums & culture
There are lots of enticing museums in this city that can tell you all about the local area as well as information about important people and events. The exhibits here change frequently, so you will not get tired of visiting these cultural locations to help your kids enjoy educational fun.
Museum at the Castle
is one of the best places to hang out with your family on the weekend, and if you have decided to homeschool, this can be a great source of additional education to add to your curriculum. There are also many other cultural activities in town that can offer you and your kids access to information about the area as a whole.

Lawrence University
This is the home city of Lawrence University, a liberal arts school that offers excellent music instructions. The campus is 84 acres in total, and you can also enjoy access to music and art events at this location. This is a really good option for kids that want to study music when they are done with high school, and you might move to this town just to satisfy this need for your family.
The campus at
Lawrence University
is historical and really special as well. You can head here any day of the week to take in the peaceful quiet of the common areas and to start showing your kids what college life is all about before they are ready to enroll.

Shopping
Appleton offers you access to all kinds of different shopping experiences. You can choose to head to the
Fox River Mall
, or you might want to visit downtown for a more boutique shopping experience. There is no shortage of great places to visit to find all of your favorite items and brands.
No matter what kind of shopping experience you are looking to have, Appleton can cover your needs. There is a surprisingly wide array of name-brand and boutique options within the city limits, so everyone's needs and tastes can be met with ease.

Spas & massage
There are lots of great options for pampering and self-care here in Appleton. You can get a really high-quality manicure or pedicure at
Coco Salon & Spa
, or you can book a luxurious massage at
Agea Spa
. You will not have to leave the local area to get your hair cut or to find the right place for a color service.
Appleton might not be the biggest town in Wisconsin, but it offers a wide array of options for beauty services of all kinds. Getting your and your family's hair cut is simple when you move to this town, and there are many added levels of specialized beauty care that you can access as well.

Baseball
If you have always wanted to be able to attend home games for your favorite team but have never lived close enough, the Fox Cities Stadium will offer you the chance to watch the
Wisconsin Timber Rattlers
play. You can set your family up with season tickets, and there is a really nice clubhouse if you want to be sure that you can eat, drink, and be protected from the weather while you watch.
These kinds of events are excellent for family time, and this is one of the best baseball teams around. You will have tons of fun at games, and being able to lounge in the clubhouse will make even the least sports-oriented person in your family love game days.

Dining
Appleton doesn't just offer you luxurious spas and shopping; you can also dine out at amazing local restaurants as often as you want! This is a great place to choose for your new home if you want to have access to fine dining, family dining, and even vegan and organic menus of various kinds.
Enjoy a fine-dining experience at
Rye
or head to
Stone Arch Brewpub
for a pint and some delicious pub food.
Mark's East Side
offers casual family dining and a wide array of allergy-friendly options, or you can head to
Mary's Family Restaurant
if you want access to comfort foods and great breakfast options. There is something for everyone in this area when you want to eat out, and you will have no trouble finding the right spot for you and your family.

Theater & arts
The Fox Cities Performing Arts Center
is a wonderful part of life in Appleton, and you will be able to attend everything from local theater performances to Broadway shows at this location. Being able to buy tickets for such prestigious shows as Dear Evan Hansen or electing to buy tickets to concerts is a huge benefit to moving to Appleton.
Normally you would have to drive a long way to get access to these kinds of shows, but Appleton can make it simple for you and your family to enjoy theater magic whenever you want! This busy location is always booked, and you will have so many choices offered to you that you will never get bored.

Water sports & boating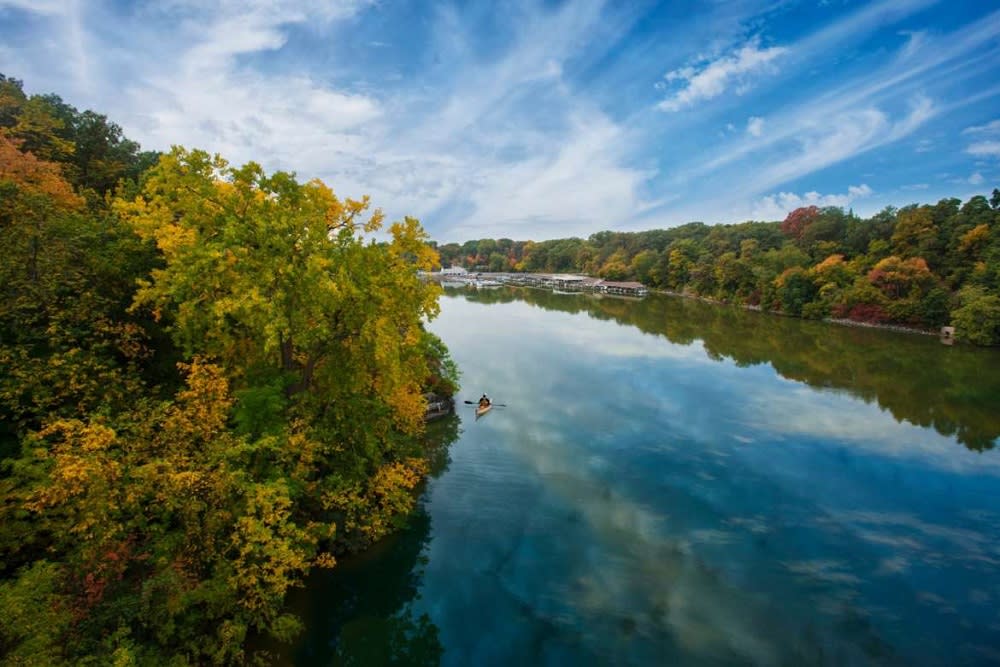 Photo courtesy of UrbanMatter
Appleton is a great place to enjoy
boating, paddleboarding, kayaking, and more
. You can sail on Lake Winnebago, or you might enjoy ice boats here in the winter. There are shoreline eateries along the waterfront, which makes heading out to the water even more attractive.
If you love water events, you might want to participate in the July Park-to-Paddle, or you can choose to pass through the Fox Locks system for a really unique experience. This is a great area for families that love water sports of all kinds.
Appleton real estate is a great investment
If you have been debating a move to Appleton, Kelly Davies Home Team can help you to find the perfect home for your family in this beautiful city. Kelly Davies knows how to help your family pick the perfect location so that you can all enjoy everything that this city has to offer.
Appleton real estate is competitively priced, and there are luxury homes for sale in Appleton and condos and townhomes. There is even land for sale in Appleton if you want to build the home of your dreams. Let
Kelly Davies Homes Team help you to find the home of your dreams
in the Appleton, WI area today!

*Header photo courtesy of UrbanMatter